New year, three new jobs, but you can't have all three. Apply within
We know what you're thinking.
You've just got back to work after eating your own body weight in mince pies and Sharon is still moaning about her other half snoring, Don is still going on about a football team you've never heard of and you're wondering how you can take another year of this torture.
Well, we say we know what you're thinking but really we don't, because we don't have Don or Sharon at Blackball Media.
What we do have is sunshine, the sea, tasty water in a WATER COOLER and an unlimited supply of bacon* from Lovely Lynn in the canteen.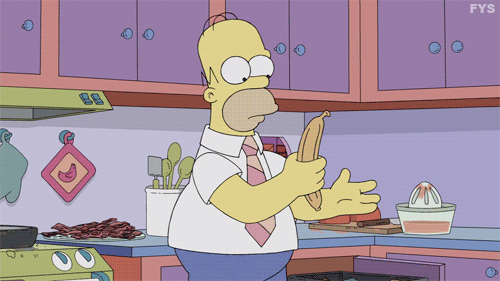 Oh, and some job satisfaction too – but we know we had you at bacon…
Anyway, if you fancy ditching Don and Sharon faster than that Christmas jumper you thought was a good idea to wear to the office party, then you may be in luck, because here at Blackball Media we've got THREE jobs for you to pick from.
So I don't end up repeating myself – as I can only assume Don does constantly about Notvery Athletic – they all come with the following benefits:
An office so close to the south coast you can taste the salty sea
A subsidised canteen offering such delights as Curry Wednesday and Fish & Chip Friday
A gym with a running machine, weights and other items that make you sweaty
Close proximity to no less than five supermarkets so you can supermarket sweep in your lunch break to your heart's content and, read it, TWO Costas
25 days holiday a year (like you'll want that!)
Plus lots of other corporate stuff I've long forgotten about as I'm having too much fun writing this.
Oh, and before I forget, applications for all three jobs close on January 22 (I made this bold to really hammer that message home, hope it worked).
So here's what we're looking for…
EDITORIAL ASSISTANT
A step on to the first rung of the ladder to write about cars and car-related tomfoolery for our plethora of outlets including the serial-award winning Car Dealer Magazine, our freshly launched Workshop Magazine, SuperUnleaded.com, AOL Cars, Motors.co.uk and many more.
You'll be working predominantly on the first two in that list, but will also be expected to dive in and help with all the others giving you brilliant opportunities to learn the motoring journalist trade.
We're not looking for a perfectly polished journalist – we're more interested in your passion for cars, the industry, your ability to string a sentence together and a sense of style in your writing. We want personality not perfection.
A passing interest in gadgets and products would be a distinct advantage too…
We'll help you learn on the job, train you to work across our titles and give you the chance to drive some of the coolest cars in the world in many far flung parts of the, er, world.
You'll be a stickler for spelling, a gate-keeper for good grammar and be super organised like one of those Filofaxes that men in suits weighed themselves down with in the 80s. Actually, you probably won't get that reference, so ignore it.
The job is full time, based in our offices in Gosport (Google Map it) and comes with, get this, an actual salary too. I know, right.
If you're interested email me at james@blackballmedia.co.uk with your CV and a covering note that won't bore me to tears and doesn't get my name wrong. I get so many of those there's an auto delete function set up these days…
VIDEO PRODUCTION ASSISTANT
Our video team gets around a bit. And I don't mean like that. I mean they fly all over the world filming amazing cars for a huge variety of clients.
We've worked with some of the biggest car manufacturers in the world filming videos for the international press to use, for car makers to broadcast on their social channels or even use on television.
We also work for some brilliant consumer brands and produce editorial videos for their vast audiences to watch online.
As our video department grows we're looking for a new video production assistant to make a name for themselves in this growing industry.
You'll be so organised you'll have lists of your lists, a habit of buying folders and are hopelessly addicted to the smell of labeling machines burning their little labels of organisational goodness into the world.
As well as running the department's diary like a stingy doctor's receptionist you'll also have experience editing videos too and will be looking to develop your skills further.
Our head of video listed his demands as the following:
Experience with video editing software – Final Cut X, Adobe Premiere, After Effects
Strong organisational skills (did we mention that already?)
A good understanding of video production
Filming experience beneficial
Enthusiastic about cars
Full UK driving licence
The role is full time and based in our Gosport office.
If you're interested email your CV and a show reel if you have one to james@blackballmedia.co.uk with a note as to why this is the right job for you, your favourite car chase scene from a film and why, and your favourite car of all time. I love those questions so give it some thought…
VIDEO CAMERA OPERATOR & EDITOR
Like I said above, our video department is expanding rapidly and we're also looking for a camera operator and editor to join the team.
Ideally you'll have a love of cars and all things motoring and want to make beautiful videos of loud, noisy four-wheeled things.
You'll have a good understanding of digital SLR video cameras, Go Pros and will be able to demonstrate that in a show reel of some of the great work you've done in the past.
You'll also be a whizz in Final Cut X or Adobe Premiere and will have used all three to produce top quality content.
We're looking for someone with natural creativity, a passion for petrol and above all else an unrelenting enthusiasm to create stunning videos that people will enjoy.
You'll be working on editorial content and live broadcasts for our variety of clients and will be predominantly based in our offices in Gosport, but travel will be expected.
Which means you'll need a full, clean driving licence and probably a passport.
If you're interested, email your CV and a show reel (if you have one) to me at james@blackballmedia.co.uk with a note as to why this is the right job for you, your favourite car chase scene from a film and why, and what your favourite car is of all time.
Be aware we'll be testing all candidates so be prepared to hit the road with us to show us what you can do.
APPLICATIONS FOR ALL THREE ROLES CLOSE ON JANUARY 22 (made this bold AND shouty this time for added drama).
Come on, what you waiting for? Another moan from Sharon about her other half's snoring…? Thought not.
*Bacon supply is limited really. Because there's only so many pigs in the world. We think.