07 Dec

Our video man Nigel heads to the Jungle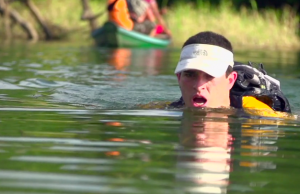 Blackball Media's video team doesn't just produce motoring films – they can turn their hand to pretty much anything. And if anything proves that, it's this!
Nigel Swan, our head of video, recently headed to Brazil to film the Jungle Marathon. This gruelling event crosses 200km of the Amazonian rainforest and has been voted the 'World's Toughest Endurance Race' by CNN.
Hearing the stories Nigel came back with, we don't doubt that's anything but the truth. While he dodged snakes and handbag-sized spiders, the competitors had it even tougher – they had to run the course!
Nigel said: 'It was an incredible event. At times it was pretty scary, but I'll never forget the inspirational athletes who battled some tortuous conditions to complete the marathon.'
Blackball Media was commissioned to produce a round-up video of the event.
The footage Blackball Media shot for the organisers was also used by news channels across the world, including Sky News Sports, Hungarian Euronews, Eurosport, Netherlands TV, ABC News as well as Spanish and French sports channels.
On top of the showcase film you can watch below, we are also putting together a longer film for the DVD, which will be offered to competitors.
If you're interested in commissioning the Blackball Media video team for ANY video job call (023) 9252 2434 or contact us via the website here.
Opening sequence from Blackball Media on Vimeo.